Founded in 1932
We have gained our experience the old fashioned way.  For over 75 years we have been helping commercial fishermen, tow boats and recreational users solve problems and get back out on the water.  Even the US Coast Guard and other government agencies have relied on our expertise and experience.
Major boat companies call on us to solve problems that their "young engineers" haven't encountered before.  There is just no substitute for decades of hands-on experience.  George brings a wealth of outside knowledge to bear on the subject of motors and their relationship to the proper use of the optimum propeller dimensions.  As a hobby, he campaigns a drag race car and builds vintage hot rods.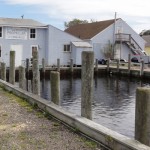 For some in the trade the computer tells them where to slam the prop with a sledge hammer, thus smashing it into physical compliance.  We know that gentle pressure from a hydraulic press puts less stress on the propeller thus extending its useful life.
We never wanted to be the biggest shop around, but we have succeeded in delighting thousands of customers.  There was never a desire to branch out to other areas of marine services.  We do one thing and we take pride in a job well done.
Our reputation is build on generations of honest personal service and has been earned one customer at a time.  We have been helping people by solving basic or complex problems on an individual basis.  We have watched our customers mature from the little fishing boat up to the yacht they own today.  We have assisted with the several boats they have owned in between.  Now it's the sons and grandsons who place their trust in our products and services.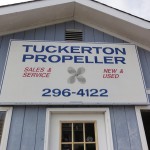 We are a shop that promises individual service.  You may start with a propeller need, but we hope you become a friend.  We really are the kind of people you can trust.
At Tuckerton Propeller, your prop is pressed into compliance, not beaten into submission.
To avoid traffic, many of our customers come from LBI and the Atlantic City area by boat.